Efficient and Flexible
Palletizing System
VARO's palletizing system consists of a number of standard elements, which can be mixed and matched in a number of different combinations and customized for your needs. This means that you can put together just the right system for your production.
The central elements of the system are:
Robot units
Pallet storage
Feeding lines
Labelling
Wrapping
No matter how you put together your palletizing system, it can be easily integrated in an existing production line.
We also offer integrated palletizing as part of a production line.
Better working environment with automation of palletizing
A palletizer from VARO completely removes heavy lift for employees and thus contributes to a better work environment and less work-related injuries. Instead of doing manual lifting, employees can perform other tasks, such as supervising the machines.
Automatic palletizing of different products
Our broad spectrum of palletizers includes palletizing and depalletinzing of cardboard boxes, jerry cans, drums, ampoules and vials and much more! Please ask us for references.
Palletizing on several pallets
The palletizing system can palletize or depalletize one or more pallets. A robot can cover a large area and more pallets that it can handle at the same time. Physically, the system does not take up much space in relation to how many pallets it can handle.
Handling of spacers
Handling of spacers or automatic feeding of pallets from a pallet magazine can be integrated into one palletizing system from VARO, so that the system and the degree of automation is adapted to your palletizing needs and production.
See more of our integrated palletizers together with a production line:
>> Filling, palletizing and depalletizing of jerry cans
>> End-of-line solution for ampoules and vials with palletizing
>> Pick and place packaging of packaged food with fully automatic palletizing
Watch one of our videos on our automatic palletizing system.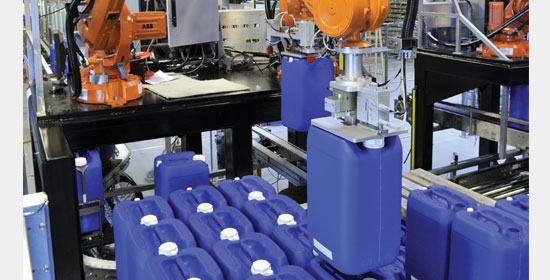 Palletising of all product types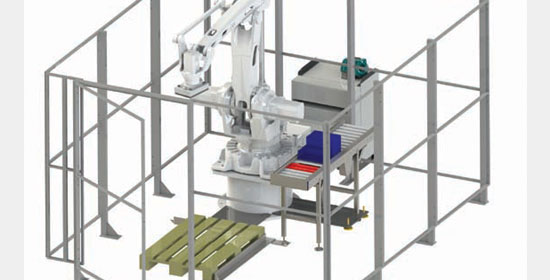 Palletising system with 1 feeding line, 1 robot and 1 pallet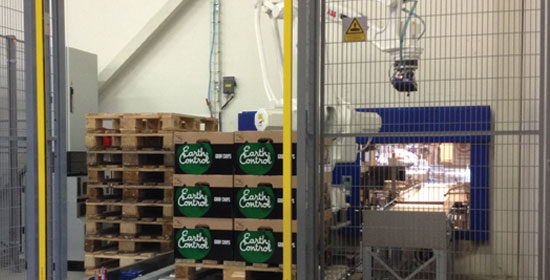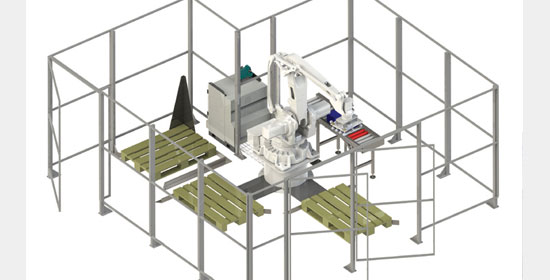 Palletising with several intermediate pallets.
Palletising system with wrapping