High precision filling line for jerry cans
At the core of VAROs high precision filling line is the filling station. With an accuracy of down to 0.2 % this is a unique system for high-end products within the food, chemical and pharmaceutical industries where every drop counts.
Flexible and accurate filling system
The system has a very high filling accuracy, a high production capacity and a quick changeover between different products and jerry can sizes, which ensures full production flexibility. Furthermore, it is possible to change between jerry cans, IBCs and drums of varying sizes. The station also meets the highest hygienic standards in all details - including CIP cleaning of the lances and complete wash down of the system (IP66).
Furthermore, all filling operations are fully traceable. Throughout the entire filling process all jerry cans  are transported on a unique VARO transport unit with integrated RFID tag. This ensures high quality control and full traceability.
Turnkey filling line
The VARO filling station can be delivered as part of an entire turnkey system, where all aspects of the filling process are handled - from defoiling of the pallet with jerry cans to depalletizing and filling to capping, rejection and palletizing.
The entire high precision filling line is fully automated and can be controlled from start to finish by a minimum of operators.
ATEX-secured filling system
The full automatic filling station is also available in an ATEX-version for flammable products. VARO follows the high demands of the ATEX-directive for mechanical and electrical parts used in the filling system in order to prevent and reduce the risk of explosions.
Filling line adjusted to your needs
When Danish biotech company Novozymes was looking for a new filling line, they had difficulties finding a solution that met their high hygienic filling standards. With VARO, they could get exactly the solution they needed. Read the entire story here.
How can we help you optimize your filling process? Contact us today and book a meeting with our specialists.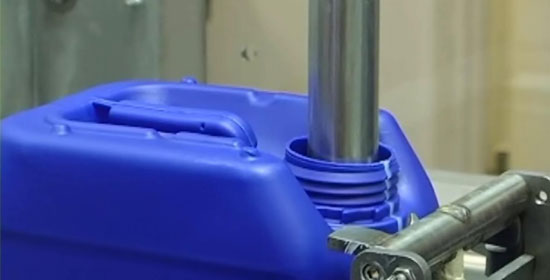 VAROs filling line uses buttom up filling of liquids to prevent foaming.
Filling accuracy: down to 0.2%
High capacity: up to 600 units per hour
Flexible changeover: can sizes and product types
Full product traceability: RFID tags
Hygienic design: CIP and wash-down
Easy maintenance access
Material: AISI 316 and 304
Jerry can size: 1-8 gallons. Other types and sizes possible.
Capacity: Up to 600 jerry cans/hour
Accuracy: Down to 0.2 % depending on product and can size
Capping: Via torque control
Full traceability: Unique VARO transport unit with RFID tag
Cleaning: Automatic CIP cleaning of filling lances. Wash down design (IP 66) of entire system.
Controls: Siemens PLC with touch screens
ATEX-version for flammable products
Membrane seal welding
Sales weight filling
Bar code and label printers
Material certificates according to EN 10204; 2.2 or 3.1 and FDA certificates for rubber polymers
Optional depalletizing, palletizing and defoiling system for empty jerry cans on a pallet