The ultimative IBC and Drum Filling Solution
As this is a fully automated filling line just a single employee can control the filling of very large product quantities.  That saves man hours and contributes to a safe physical working environment.
Advantages of the IBC and drum filling solution are:
High capacity: up to 15 IBCs per hour
Filling accuracy: down to 0.1%
Hygienic design: CIP and wash-down
High accuracy and capacity in IBC filling
The VARO IBC and drum filling station is optimized for foaming and high viscosity products. The VARO line for IBCs and drum filling has a very high filling accuracy – down to 0.1 % for 1,000 L IBC and its capacity is up to 15 IBCs or 20 - 40 drums per hour (depending on the design of the system). The IBC and drum filling system minimizes errors in the filling proces and ensures, that you will always be able to deliver on time.
IBC filling of high viscosity products
The VARO IBC filling line is a uniquely precise and flexible system for filling of high viscosity products. It consists of two locks with
Modular system
The VARO IBC filling system is modular build, which ensures an uncomplicated and fast transport and installation of the system as well as easy connection to electricity, air, CIP etc. The VARO filling system provides easy acces to all necessary functions within the filling station, even when there is an IBC or drum in the filling station.
Flexibility
VARO offers a number of different add-on options, which can optimize your IBC filling solution:
Flexible changeover between IBCs and drums
Infeed of seals and sealing of caps
Screwing system for caps
Incoming and outgoing locks
Labelling
Printer
ATEX
>> We can also help you with unwrapping of the pallet, depalletizing and palletizing.
>> Read more about our jerry can filling line
>> Read our guide: 7 questions you should ask yourself before investing in a new filling line.
>> Contact us for further information.
Before investing in a new filling line for high value products, many issues must be considered. Read our guide here and be prepared for your new investment!
Quick and precise filling of IBCs.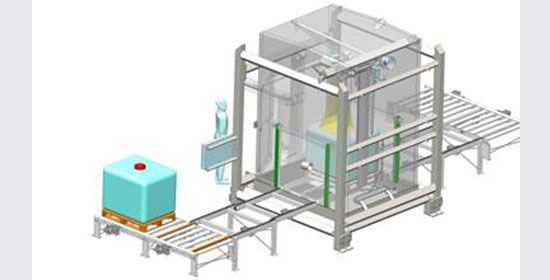 IBC filling. Filling accuracy of 0.1 % for 1,000 L IBCs.