Pallet unwrapping systems
The fully automatic unwrapping unit is a revolutionary new technology, which accurately and efficiently cuts and removes the stretch wrap, even from unregular shaped shipping pallets.
It is therefore the perfect choice for any warehouse that receives and unpacks a large amount of pallets each day.
Please note! The VARO pallet unwrapping system is a new innovation and is officially launched later this year. 
The VARO unwrapping system pays off: 

Fast
high capacity - fully automatic multi-shift operation without breaks
Careful
unwrapping without damage to the pallet goods
Safe
no more risk of injury for employees
How does automatic pallet stripping work?
Step 1: "Learning"
If pallet shapes are unregular, the unwrapping system automatically detects the shape of the pallet by running the knife device down over the pallet shape.
Step 2: "Cutting"
The specially developed knife device grips the stretch film and cuts completely over the detected shape without damaging the underlying products or packaging. This process ensures that all pallet shapes can be unwrapped without prior programming.
Step 3: "Stripping"
When the pallet is released, the unwrapping system continues to hold on to the stretch film until completely clear of the pallet. Thereafter the stretch film is sucked away or delivered to a predetermined location. Subsequently, the pallet is ready for de-palletizing or further handling.
Safe automatic removal of stretch film from pallets
Fully automatic unwrapping reduces the need for manual repetitive and ergonomically incorrect work and thus contributes to increased production speed and reduces labor costs in companies with multi-shift operations.
Which pallet shapes and sizes can be unwrapped?
The VARO unwrapping system can unwrap most types of products on pallets - even when stacked in unregularly shapes.
It can handle all standard pallets: EUR EPAL 1-7 (up to 1200x1200 mm) and US pallets up to 48x40"
Flexible pallet stripping in tight places
With dimensions of 2x3 meters, the VARO unwrapping unit does not need much space and can fit in even tight warehouse spaces. The system is highly flexible, as it both can stand alone or be smoothly integrated into existing warehouse systems or production lines.
With the high capacity unwrapping unit, you'll get:
 a flexible unit, which handles all standard pallets - US pallets up to 48x40" or
EUR EPAL 1-7 (up to 1200x1200mm)
a place saving unit that can either stand alone or be smoothly integrated into your existing automation lines
an eco-friendly unit - no compressed air
needed
a safe unit, which cuts shrink wrap without
damaging the cardboard box or product.
a hard-working unit - no operator needed
>> We can also provide an unwrapping unit for plastic containers, jerry cans or drums, which can easily fall apart when unwrapped. Learn more about the solution here.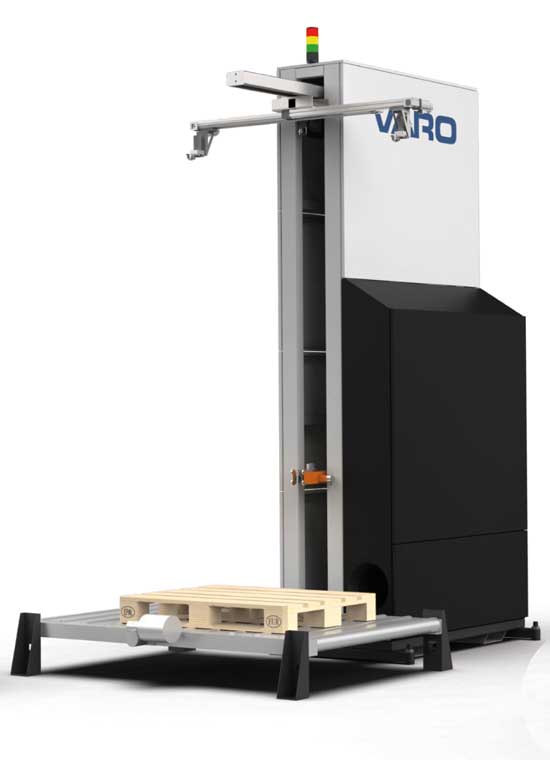 VARO has succesfully delivered a more advanced unwrapping system for jerry cans on pallets to a customer in Scandinavia. Watch the video here.