Rotary Accumulation Table
Build to perfection in a clean and sterile environment, the VARO rotary accumulation table, also called a buffer turntable, rotary table or accumulation turntable, is ideal for use in the pharmaceutical industry for high-speed and high-volume accumulating and unscrambling of vials. The buffer turntable sorts vials from bulk to inline handling without instability or vial damage before inspection or packaging.
As with all of VARO's equipment for pharmaceutical equipment, the rotary tables:
meet the highest hygienic standards
meet all standards for cleanroom environment
are supplied with complete pharmaceutical documentation
work at a very high level of accuracy
Turntable with buffer ability and noise-reducing lid
Varo`s turntable is able to buffer vials and comes with a noise-reducing and transparent lid, which makes it possible to have full overview over the process while also enjoying the highly reduced noise level. The lid is simple to use as it has two door openings for easy access and cleaning while also creating a buffer for noise reduction, making this accumulator turntable a cut above the rest.
Besides from its noise-reducing function, the lid also ensures a clean environment – both outside and inside the rotary turntable. Your vials will be protected from outside contamination as well as you avoid dust and particles from glass bottles in your production site. Furthermore, the lid eliminates work-related injuries such as clamping.
High-speed and high-volume unscrambling of vials
The automated accumulation turntable can be equiped with adjustable speed control and works at high-speed with a capacity of up to 36,000 vials / hour.  It accumulates and unscrambles vials effectively without damage or instabilities.
The VARO turntable can effortlessly be integrated into an existing system, but we are also able to offer a total product handling solution for your end-of-line handling of vials.
>> See our other equipment for handling of vials here
Low maintenance turntable accumulator
The automated turntable accumulator has following features which makes it low maintenance and easily cleanable:
all surfaces are angled to prevent materials from collecting
complete access to all surfaces for easy cleaning according to FDA standards.
made of stainless steel according to clean room ISO 100.000
designed for a long lifecycle
Ergonomic handling of vials
 Our team is dedicated to craft  the perfect accumulation turntable which works hand in hand with your existing conveyor systems or can be supplied with as a turnkey system with an elevator / elevation loading table to ensure safe transportation of vials from box to bulk and end-of-line packaging for swift and secure packaging of vials (see our video to see such a complete solution).
The buffer table is shipped completely assembled for quick installation into new or excisting production lines.
Simplicity with absolute excellence is what we offer our clients.
Hygienic unscrambling turntable meets all standards
The VARO unscrambling turntable meets all the required hygienic standards and therefore is ready to use in a clean environment.
It lives up to the standard ISO Class 7 clean room requirements, ISO 100.000 as well as all FDA standards.
>> See more about our end-of-line solutions for vials or ampoules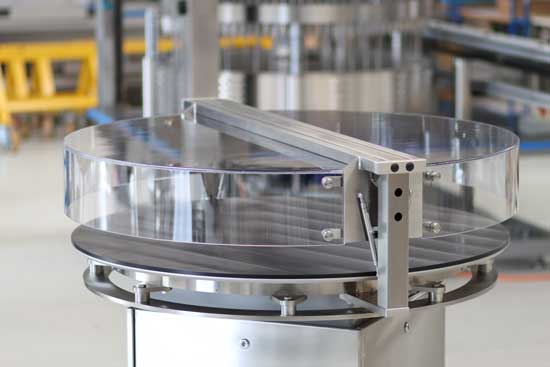 The Varo accumulation table comes with a transparent noise-reducing lid, which also ensures a clean environment and safety in terms of preventing work-related injuries.